Eyeglass Lens technology continues to grow, and the number of options we offer grows with it. There are lens options for your prescription eyeglass lenses that decrease computer glare, increase night vision and help block out harmful UV and UVB rays. We even offer prescription sunglasses and SolarActiv Lenses for indoor/outdoor use.
It is important for the health and comfort of your eyes to have the most appropriate prescription lenses for your lifestyle and vision requirements. And because your prescription may be a factor in which lens choices are available to you, consulting a JCPenney Optical professional is the best way to make informed decisions about your eyeglass lenses.
Lens Types
Below are some important considerations when selecting the right type of eyeglass lenses for your vision needs.
Single Vision Lens
With this lens, the prescription of the lens is of one power and can only be used to correct one vision problem (either distance or near vision). Single vision lenses can be made for either reading and for seeing far distances, but are not suggested to use when frequently alternating between the two. Learn more about Single Vision Lenses.
Straight Top Bifocal
This Lens is designed to offer vision correction for both near and far. The SEG (or Bifocal Window) is for near viewing; the rest of the lens is for distance. Bifocal lenses are a good option for multiple uses like driving, reading and giving lectures or presentations. Learn more about Straight Top Bifocal Lenses.
Straight Top Trifocal
This versatile lens corrects near, intermediate, and long distance viewing. The top portion of the SEG (Trifocal Window) is for intermediate viewing; the bottom, for reading and the remainder of the lens is for distance viewing. Great for reading, driving, sewing and just about any situation where your viewing needs vary frequently. Learn more about Straight Top Trifocal Lenses.
Progressive Lenses
The Progressive Lens is the best lens for complete vision correction at all distances – near, intermediate and far. Progressive Lenses are the more cosmetically appealing than bifocal or trifocal lenses, as there are no visible reading/intermediate seg windows. Progressive Lenses are designed to gradually change your prescription from distance at the top to reading at the bottom of the lens. This offers greater comfort to the wearer's eye, as the Progressive Eyeglasses allows you to adjust your focus from one viewing distance to another naturally and easily simply by moving your eye up and down, and this dramatically reduces eye fatigue. These are great for all uses and all lifestyles and best of all – they're discreet. With no visible lines, no one will know you are wearing multi-focal lenses! Learn more about Progressive Lenses.
HD Lenses
HD Lenses give you up to 40% larger clear fields of view and deliver superior edge-to-edge clarity. Watch this video to learn more about HD Lenses.
---
Lens Treatment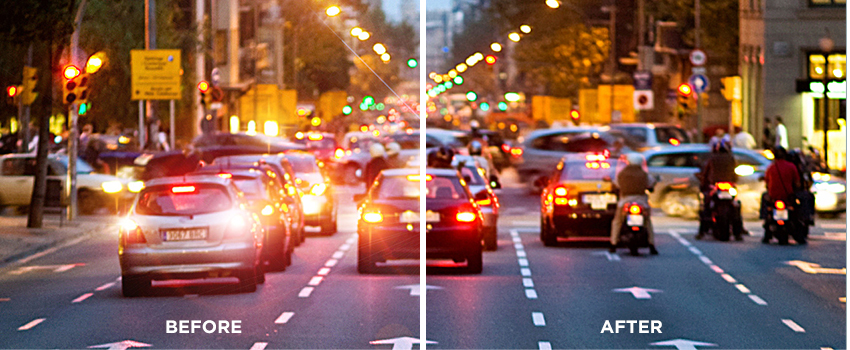 JCPenney Optical offers you a wide selection of Lens options and treatments to ensure that you get the best eyeglass lenses to meet your Vision and Lifestyle needs.
Ultra Violet Treatment
Not just for sun worshipers anymore! It is now commonly accepted medical fact that Ultra Violet rays cause a variety of eye diseases and disorders, including corneal damage and cataracts For sunglass wearers or anyone who's eyes are exposed for prolonged periods to the outdoors, UV protection is a must. Studies have shown that wearing sunglasses not treated with proper UV protection can actually be more harmful than not wearing glasses at all, because the darkness enlarges the pupil and allows more harmful UV rays to pass through the eye. This treatment also helps reduce discomfort from the glare from fluorescent lights and computer terminals. Our Ultra Violet Treatment blocks out 100% of harmful Ultra Violet rays, so ask your JCPenney eye care professional about it today.
Scratch Coating
Scratch Coating is a very simple and effective way to extend the life of your lenses. Applied to plastic lenses, this clear coating increases the surface hardness of the lens making it more resilient to scratching from ordinary usage. Keep in mind that the application of Scratch Coat will only make Scratch Resistant Lenses – which are not scratch proof, but only scratch resistant – and so your eyeglasses should still be handled with care. Scratch coating comes standard with our polycarbonate, but must be requested for other lens types. Learn more about Scratch Resistant Lenses.
Anti-Reflective Coating
AR Coating is an extremely valuable addition to eyeglasses for both cosmetic reasons, the comfort of your eyes, and increases visual acuity. It is a thin, multi-layer film applied to the surface of the lens that eliminates "ghost images," reduces glare and increases the transmission of visible light to the eye by 8-12%. Anti-Reflective Coated Eyeglass lenses are great for computer users or those who work with overhead florescent lighting, or have problems with glare from oncoming headlights during, nighttime driving. Learn more about Anti-Reflective Lenses.
Tint
Color shading a lens can be fashionable, but also add to your visual health by reducing glare and relieving eyestrain. Tints can vary in strength from a subtle hue to sunglass dark and the right shade and color can really enhance your appearance. There are many great colors from which to choose including blue, green, gray, honey, turquoise, brown, amethyst and MORE!
Mirror Coating
Mirror coatings work to reduce glare and add a fun fashion statement to your sunglasses or prescription lenses. Excellent for reducing the striking reflective glare off of snow, ice or water. Mirror coatings can be combined with polarization to get the best possible protection from potential damage to the eyes caused by the sun's UV rays.
Polarized Lenses
By filtering out horizontal rays of light and eliminating glare, polarized lenses make the best sunglasses and driving glasses. These lenses eliminate reflections form large bodies of water, bright white snow, car hoods or windows and road surfaces. They provide 100% protection from harmful ultra violet rays while increasing visual acuity and depth perception.
Premium Progressives
With Premium Progressives lenses, there is no longer a need to compromise form for function. Offering the thinnest and lightest lenses available coupled with excellent vision correction, these lenses are an excellent choice for those who seek the absolute best of both worlds. Designed with the latest in lens technology, our premium progressives offer customers their choice of maximum reading or distance viewing areas with increased eye comfort.
---
Lens Materials
The information below is important when selecting the right Lens Material and eyeglass lenses for your lifestyle.
Plastic
Plastic is the most commonly used lens material. It is much lighter than glass lenses and many people find plastic lenses much more comfortable to wear. Since they are plastic, they are susceptible to scratching, so a Scratch Coating is always recommended to prolong the life of the lens. We also recommend adding an ultra violet treatment to help prevent eye damage such as cataracts.
Polycarbonate
Polycarbonate is a special form of plastic, and is the most impact resistant lens material on the market (which is why its used for airplane windows!) These Rx lenses are 33% thinner and lighter than regular plastic lenses and provide greater comfort for many wearers. Polycarbonate lenses come pre-treated with ultra violet protection and are scratch/shatter resistant. These make a great lens choice for children, teens, and active adults. Learn more about Polycarbonate Lenses.
High Index Plastic
For thin eyeglass lenses, premium, scratch-resistant High Index Lenses offer the thinnest and lightest option possible for strong prescriptions. They are extremely comfortable, durable and with the right fashion frame offer maximum vision correction with a great look. Learn more about High Index Plastic Lenses.